Ilford (Ilfotex)Wall Paper
How printing of custom wallpaper works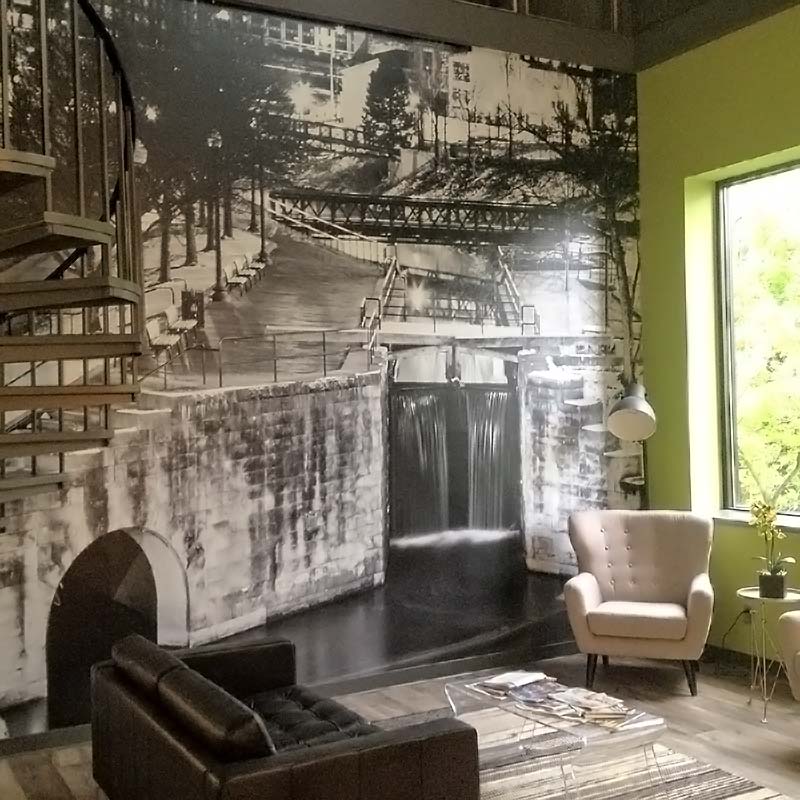 We like to send you a small proof of your custom wallpaper before printing the whole thing. This insures you are happy with the colours and brightness of the piece. We charge $25 to send you a roughly 10" x 24" size proof of the entire artwork, and a similar size piece printed at actual size so you can see how it will look on your wall. That price includes shipping to you.
Wall murals will come to you in roughly 44" wide panels with each overlapping the next by an inch. Cut through both layers in the overlap, remove the excess, and you get a butt joint that is just about invisible. The material is not pre-pasted.
You want a good quality high resolution digital photo or digital art. If you are searching for the right photo, there are several stock photo sites online, we like Dreamstime, Adobe and Panoramic Images. When buying a digital photo, buy the highest resolution available. The good news is that most digital photos will work for custom wall murals, and we've gotten some great looking wallpaper from fairly ordinary 6 or 8 megapixel photos. We can also drop type and logos into your photo.
Send us your photo, and the size of your wall, and we'll let you know if there are any problems making the photo as large as your wall.
The entire process take about two weeks. If you are in a hurry, we'll find a way to meet your needs. Call us to get started!
We use a product called Ilfotex. This is a repositional adhesive fabric that can be applied almost anywhere, then removed and re-used as desired.
Ilfotex will not rip and easily pulls apart if stuck together during installation. The adhesive never weakens, and comes away clean, leaving no residue. We can print to a size that you require.
Price of Wall Paper is $70 per m2 and excludes installation.
Email us on (info@redsimaging.com.au) for a quote.
---
This category is empty! Please try another category or use our search function to find what you are looking for. If you require further assistance please contact us.